A breathtaking beach setting, sparkling emerald waters, and a romantic atmosphere make Destin, Florida the ideal location for engagement and couples photoshoots. As a Destin engagement photographer, I am thrilled to share my top tips for planning your dream photoshoot. Let's capture your love story in this paradise!
Magic time
The best time for a beach photoshoot is during the golden hour - just after sunrise or before sunset. This magical window of time offers soft, warm light, creating a romantic ambiance and minimizing harsh shadows. And of course, sunset is more convenient for most couples because you can continue your little adventure in some nice place after the photoshoot! And to be honest, I don't expect you to wake up at sunrise on your vacation, even for a photoshoot, heheh :)
Be Prepared for the Weather
Destin's weather can be unpredictable, so plan for contingencies. Bring a change of clothes, umbrellas and towels in case of unexpected rain or waves. But you know what? A little mist can actually make your photoshoot better! Because, first of all - imagine how romantic dancing under the rain is… and second - people get scared of overcast weather, meaning the beach will be less crowded, or maybe even empty, just for you two!

Personalize Your Photoshoot

Incorporate elements that reflect your relationship and personalities, such as a bottle of champagne, a shared hobby, or a meaningful prop. We're always up to create a photoshoot that reflects the real you!

Don't stress about hair and makeup
While we understand how it's important for you to look great, feel your best during the photoshoot is more important! Remember not to stress too much about hair and makeup. Embrace the beach setting and go for a more natural, relaxed look. Opt for minimal makeup that enhances your features and choose a hairstyle that's easy to manage in the coastal breeze. The focus of your photoshoot will be on your love and connection, so keep things simple and let your genuine emotions shine through. As a 30A couples photographer, I can guarantee that capturing your authentic selves is what truly makes the photos memorable and meaningful.

Improvise and Have Fun
Although I, as your Destin photographer, will guide you throughout the session, remember that it's your photoshoot, so feel free to let loose and do whatever you want! The more spontaneous and creative you are, the better. You want to go to the waves? I'll go with you! Piggyback sounds fun? Let's do it! Don't be afraid to break from traditional poses and experiment with fun ideas that showcase your personalities. Embrace the unexpected and enjoy the experience, knowing that these candid, authentic moments will make your photos truly one-of-a-kind.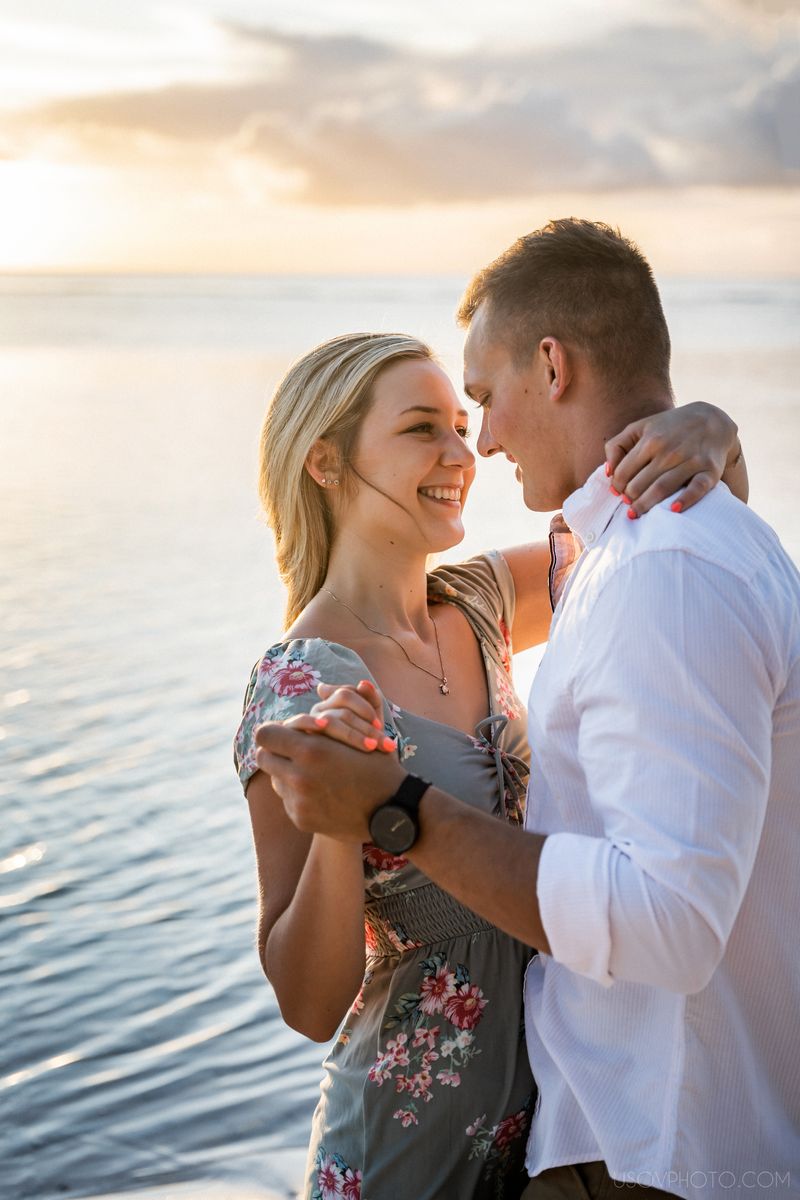 If you haven't booked your session yet, click here to choose a package, and message us to plan your couples photoshoot!
Kate, UsovPhoto - photographer Destin and 30A